A history lesson
Responsible Author: Ricardo Dominguez | Hamden, 07/13/2020, 22:32 Time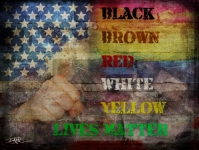 USPA NEWS -
Sometimes I use sarcasm, not to offend people but to open the eyes of those people who sleep and who only think of a black and white world. Should we apologize for what our ancestors did hundreds or thousands of years ago? Maybe we should ask for forgiveness; that is what God asks from us. Let us forgive Eve for what she did to Adam! Some groups refuse to apologize to anyone. We should be worried about those groups that are spreading hatred among humankind! We shouldn't care what their ancestors did in the past; we should be concerned about what their descendants might do to humanity or the planet in the near future. Nazi Germany should not be reborn in the United States or anywhere else, nor should we allow injustices to spread around the world in any form. It doesn't matter where those injustices originate. Our future is in our own hands. Either we work for the common good, or we all go to Sheol.
AT THE ANGEL ORENSANZ EVENT SPACE IN NYC
Responsible Author: Ricardo Dominguez | New York City, 12/19/2018, 23:39 Time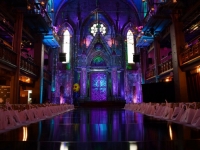 USPA NEWS -
New York Fashion Week powered by Art Hearts Fashion looked very sharp and unique this year. The show took place at the captivating and out-of-this-world Angel Orensanz Event Space in New York City from September 6th "" 10th. Everyone was invited to admire one of the most state-of-the-art and imaginative fashion shows in the world. All models were glamorous sparkling stars walking through a heavenly corridor designed for earthly goddesses.
more articles
| | |
| --- | --- |
| 09/30/2018, 04:11 Time | | New York Fashion Week Powered By Art Hearts Fashio... |
| 09/12/2018, 16:29 Time | | Angel Orensanz Foundation / New York City... |
| 04/02/2017, 23:49 Time | | HOUSE CONCERT WITH HIROYA TSUKAMOTO... |
| 06/26/2015, 22:56 Time | | National Puerto Rican Day Parade 2015 ... |
| 11/06/2013, 21:05 Time | | Hot Air Balloon Fiesta in Albuquerque, New Mexico ... |
| 08/30/2013, 16:53 Time | | PLAINVILLE FIRE COMPANY´S 29th ANNUAL HOT AIR BAL... |
| 07/05/2013, 01:36 Time | | THE HAMDEN ELKS CONDUCTED FLAG DAY CEREMONY IN HAM... |
| 06/15/2013, 22:41 Time | | Spring Student Concert in Hamden, CT-May 5, 2013... |
| | |
| --- | --- |
| | RAHMA-SOPHIA RACHDI |
| | Daren Frankish |
| | Ruby BIRD |
| | Yasmina BEDDOU |
| | Aurangzeb Akbar |